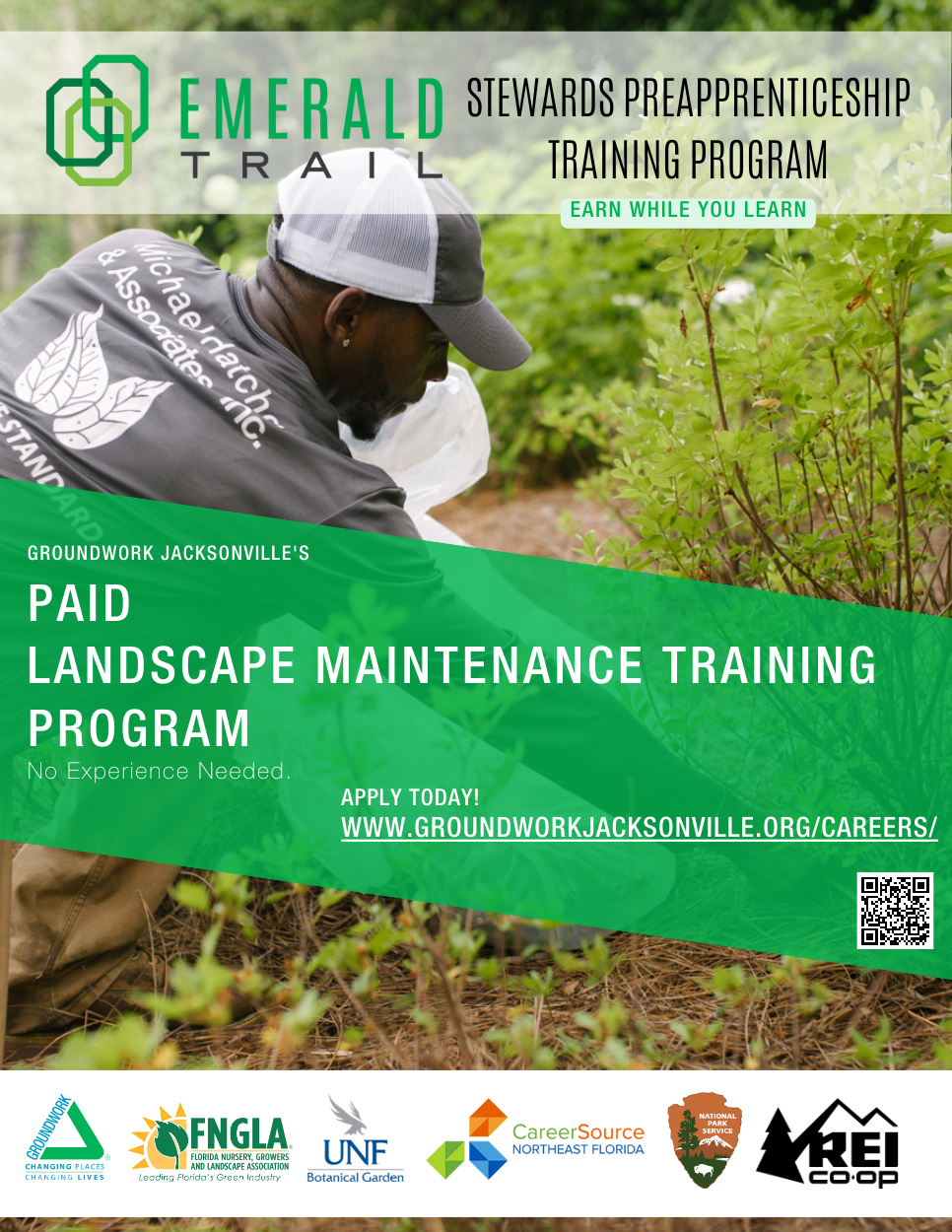 Plans for the Emerald Trail include 30 miles of native plants, shade trees, bioswales and gardens. Maintaining the plants' health and the beauty of the Emerald Trail is a priority for Groundwork Jacksonville and the inspiration for the Emerald Trail Stewards (ETS) Pre-Apprenticeship Program.
Developed in partnership with Florida Nursery Growers and Landscape Association (FNGLA), the University of North Florida (UNF) and Career Source of NE Florida, the ETS Pre-apprenticeship is a hands-on, paid landscaping training program open to adults (18 +) who live within Emerald Trail neighborhoods. This encompasses zip codes 32202, 32204, 32206, 32208, 32209 and 32254 where the unemployment rate is nearly double that of the city overall. 
Upon completion, ETS pre-apprentices will earn two industry certifications from the FNGLA Certified Professionals program - Certified Horticulture Professional (FCHP) and Certified Landscape Maintenance Technician (FCLMT). Within six months of completion, pre-apprentices will be hired by Groundwork to maintain the Emerald Trail or by another employer, will enter FNGLA's paid apprenticeship program, or will be connected to additional educational opportunities.
Pre-apprentices will split their instruction time between the classroom and field learning at UNF's Botanical Gardens & Maintenance Facility. In addition to the technical skills required for certification, trainees also will learn interpersonal skills such as working with diverse groups, working in teams and conflict resolution. Additionally, they will participate in professional development opportunities including resume building, networking and interviewing.  
Pre-apprentices receive a starting stipend of $11 per hour that increases to $13 per hour upon passing a mid-term exam. Transportation costs are also reimbursed. The program is funded by grants from the National Park Service, the Florida Department of Education - Pathways to Career Opportunities, and REI. 
For more information, contact Chimere (CC) Nieves Pellot,Groundwork Jacksonville Program Director at 904.598.5605 or cc@groundworkjacksonville.org.