Kay Ehas
Chief Executive Officer
Kay Ehas is CEO of Groundwork Jacksonville, the City of Jacksonville's nonprofit partner in creating the 30-mile Emerald Trail and restoring McCoys Creek and Hogans Creek.
Since joining Groundwork in 2107, Kay Ehas has been relentless in her pursuit of achieving Jacksonville's 100-year-old dream of connected trails, parks and creeks that encircle the urban core. Kay quickly went to work developing the Emerald Trail Master Plan which was adopted by the Jacksonville City Council in early 2019. Now, just three years later, more than 1/3 of the trail is in construction or design. The first 1.3 miles of trail, the LaVilla Link, will open by the end of this year.
Kay has 15 years of experience in local government, most recently as chief administrative officer for the Duval County Property Appraiser. She also has more than 11 years of private-sector human resources experience.
From 2004 – 2015, Kay served on the Riverside Avondale Preservation (RAP) board including three years as Board president. Under Kay's leadership RAP created the Riverside Arts Market (RAM) and planted more than 1000 trees along neighborhood streets, among other accomplishments.
Kay came to Jacksonville as a Volunteer in Service to America (VISTA) where she worked with public housing tenant associations and a low-income senior citizens group. She earned a master's degree in communication and graduated with distinction from the University of Florida. Kay earned a Bachelor of Arts degree in social welfare from Kutztown University of Pennsylvania.
To get in touch with Kay please email kay@groundworkjacksonville.org
Chimére C Nieves Pellot
Program Director
One of Chimére's (CC) favorite quotes from Plato is "Good actions give strength to ourselves and inspire good actions in others." She believes that as a global community, we have a collective responsibility to commit to the development of creative solutions for our planet.
Since 2016, this inspired her work with Feeding Northeast Florida to end hunger and eliminate food waste. Now, as Groundwork's Program Director, CC is applying this mantra to develop programs and partnerships that advance environmental stewardship and resilience, and strengthen our urban neighborhoods.
CC is a graduate of Orange Park High School and the University of North Florida where she earned a Bachelor of International Business & Studies and a Bachelor of Business Management. She also received a Master Herbalist diploma in 2021. She participated in the University of Florida IFAS and Florida A&M University collaborative series "Agricultural Stewardship and Entrepreneurship."
CC serves on the Board of Bridge the Gap, a local nonprofit that delivers fundamental social services to the elderly and disabled citizens and is secretary on the Catherine Hester McNair Community Garden steering committee.
She also volunteers with the Duval Soil & Water Conservation District on projects including the annual Envirothon, high school environmental sciences competition, and the Regeneration Park project.
To get in touch with CC please email cc@groundworkjacksonville.org
Gloria McNair
Manager, Community Engagement & Equity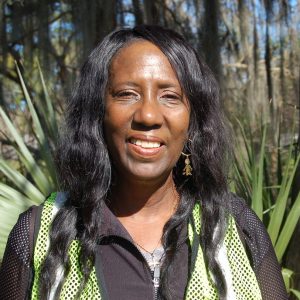 Gloria McNair joined GWJax in 2018, responsible for engaging citizens — especially residents from historically underserved urban neighborhoods — in visioning and advocating for their community. Gloria also helps to ensure community input shapes GWJax projects including McCoys Creek, Hogans Creek and the Emerald Trail.
One of Gloria's major areas of focus is the development and implementation of an Equitable Development Plan to help long-time residents stay in their homes and benefit from the prosperity the Emerald Trail will create.
Gloria's professional career has been diverse, yet at the core of her work has been a dedication to service.  She joined the U.S. Navy and served 22 years of active service, first as a Hospital Corpsman and then as an Environmental Health Officer. After retiring in Jacksonville, she used her skills as an educator and preventive health advocate with the Florida Department of Health in Duval to support initiatives such as the Green Team's community garden.
Gloria has a MA in Human Resource Development from Webster University, a Bachelor of Science degree in Psychology from Excelsior and an Associates of Science degree in Environmental Health from Merritt College. Originally from South Carolina, Gloria now proudly claims Jacksonville as home for her and her husband and two daughters.
To get in touch with Gloria please email gloria@groundworkjacksonville.org
Monty Selim
Emerald Trail Project Manager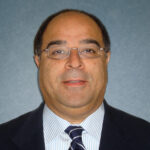 Montasser (Monty) Selim serves as the Groundwork's Emerald Trail project manager, responsible for the technical coordination of project teams, directing and coordinating projects through all phases, from scope and fee negotiations to allocating resources and ensuring technical quality, budgets and schedule compliance.
Monty holds a BS in Civil Engineering and has more than 35 years of experience in multimodal transportation planning and program management of Transportation/Public Infrastructure projects.  His experience includes the development of multimodal transportation alternatives analysis, and preliminary design projects.  Monty served as Urban Planner for Jacksonville's Downtown Design Review Board for six years and is currently serving on the Context Sensitives Streets Standards Committee for the last four years.
To get in touch with Monty, please email selimm@bellsouth.net
Dylan Ford
Landscape Architect/Project Manager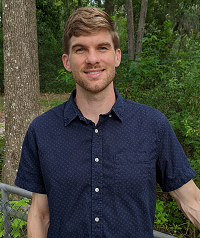 Dylan Ford is Groundwork Jacksonville's Landscape Architect and Project Manager, responsible for designing native landscapes for the Emerald Trail, as well as managing watershed and restoration projects for McCoys Creek and Hogans Creek. Dylan is committed to improving the quality of life in Jacksonville through green infrastructure design.
Born in California, Dylan spent most of his life in Indiana. He earned a master's in landscape architecture from Ball State University and a Bachelor of Science degree in Physics with a minor in Mathematics from Manchester University in Indiana.
Wanting to be close to family and the beach, Dylan and his wife Holly moved to Jacksonville in 2018. Prior to joining Groundwork, Dylan worked for the State of Florida as Engineering Specialist II for the Army National Guard in Saint Augustine, Fla.
Currently, Dylan is pursuing his Landscape Architect license in Florida, as well as the Certified Associate in Project Management (CAPM) designation. He is a member of the American Society of Landscape Architects (ASLA).
To get in touch with Dylan, please email dylan@groundworkjacksonville.org
Tylyn Recore-Dagsaan
Operations Coordinator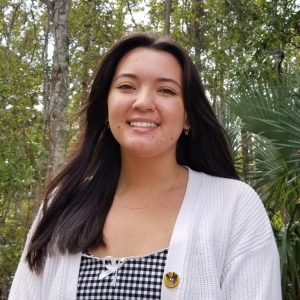 Tylyn Recore-Dagsaan joined GWJax in 2019 as a LISC Americorps member serving as Program Coordinator assisting with Groundwork's Community Engagement efforts. She joined the organization full-time in
2021 working closely with the CEO on research, administration and overseeing daily operations.
A Jacksonville native, Tylyn graduated from the University of North Florida with two Bachelor of Arts degrees in Psychology and Anthropology. During this time, she was a recipient of United Way's "Upstream" Grant to complete a transformative project in downtown Jacksonville. She created a mosaic art project with students of James Weldon Johnson Middle School, local artists, and UNF students that is featured in the Main Street Pocket Park behind the downtown library. She was also very involved in conducting academic research, completing an Honors Thesis in primatology and conducting research projects on discrimination and biases. Her honors thesis was published in the first edition of UNF's academic research journal, PANDION.
To get in touch with Tylyn, please email tylyn@groundworkjacksonville.org
Oscar Psychas
Youth Program Manager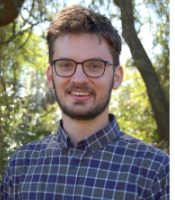 Oscar Psychas is Groundwork's Youth Program Manager leading the Green Team Youth Corps summer apprenticeship and volunteer fellowship programs.
Oscar is committed to activating the potential of young people to be leaders and environmental stewards in their communities. In his hometown of Gainesville, Fla he founded and led Young Leaders for Wild Florida, an Alachua Conservation Trust summer program that engages teens in outdoor adventures, workshops with community leaders, and environmental advocacy. He has started several youth environmental groups and organized a global online environmental summer camp.
After graduating from Middlebury College in 2021 with a joint degree in Environmental Studies and Geography, Oscar led a pilot gap semester program in the Southwest with Cottonwood Gulch Expeditions. He has completed internships with environmental organizations in Zambia, Mongolia, and Botswana. Oscar has advocated for environmentally responsible policies in Florida, including by walking 280 miles to the state capitol to support land conservation funding. He is honored to further build on the success of the Green Team program, and looks forward to forging close partnerships across neighborhoods, organizations, and backgrounds to inspire and empower diverse youth.
To get in touch with Oscar please email oscar@groundworkjacksonville.org