Kay Ehas
Chief Executive Officer
Kay Ehas is CEO of Groundwork Jacksonville, the City of
Jacksonville's nonprofit partner in creating the 30-mile Emerald Trail and restoring McCoys Creek and Hogans Creek.
Since joining Groundwork in 2017, Kay Ehas has been relentless in her pursuit of achieving Jacksonville's 100-year-old dream of connected trails, parks and creeks that encircle the urban core. Kay quickly went to work developing the Emerald Trail Master Plan which was adopted by the Jacksonville City Council in early 2019. Now, just three years later, more than 1/3 of the trail is in construction or design. The first 1.3 miles of trail, the LaVilla Link, will open by the end of this year.
Kay has 15 years of experience in local government, most recently as chief administrative officer for the Duval County Property Appraiser. She also has more than 11 years of private-sector human resources experience.
From 2004 – 2015, Kay served on the Riverside Avondale Preservation (RAP) board including three years as Board president. Under Kay's leadership RAP created the Riverside Arts Market (RAM) and planted more than 1000 trees along neighborhood streets, among other accomplishments.
Kay came to Jacksonville as a Volunteer in Service to America (VISTA) where she worked with public housing tenant associations and a low-income senior citizens group. She earned a master's degree in communication and graduated with distinction from the University of Florida. Kay earned a Bachelor of Arts degree in social welfare from Kutztown University of Pennsylvania.
To get in touch with Kay please email kay@groundworkjacksonville.org
Janet Reagor
Chief Operating Officer
Chief Operating Officer Janet Reagor directs day-to-day operations including human resources, facilities and operational policies and procedures that support the growth of Groundwork Jacksonville. Janet is also responsible for the effective development and execution of programs that reflect Groundwork's mission, values and commitment to the community.
Janet is a dedicated professional with a wealth of experience in nonprofit management, fund development and administration. She has held leadership positions with LSF Health Systems, Community Hospice & Palliative Care, Sanctuary on 8th Street and Dignity U Wear.
Her educational background complements her extensive professional experience, enabling her to excel in demanding and multifaceted roles. Janet holds a Master of Public Administration from the University of North Florida and a Bachelor of General Studies in Business Management & Marketing from Jacksonville University.
Janet is committed to volunteerism and community service. She is active in the Rotary Club of San Marco, the Garden Club of Jacksonville, the Women's Board of Wolfson Children's Hospital, the Junior League of Jacksonville, and Walk-Off Charities. Janet is a Leadership Jacksonville alumnus.
To get in touch with Janet, please email Janet@groundworkjacksonville.org
Nancy Schneider
Director of Development & Partnerships
Nancy Schneider is a Jacksonville native and professional with extensive nonprofit experience. As Groundwork Jacksonville's Director of Development & Partnerships, Nancy is responsible for leading and implementing development strategies, donor cultivation and stewardship, and establishing strategic partnerships with businesses and key stakeholders.
Nancy is a people-centric leader with a deep well of experience convening conversations and building meaningful relationships with diverse audiences as a first step in project design and resource development.
With a career spanning over 25 years in Jacksonville, Orlando and Indianapolis, Nancy has held a range of leadership roles. Most recently, she developed and implemented a program for an Indianapolis private school that was recognized, both locally and nationally, as a model of diversity, community renewal, and academic success for grades Pre-K through 8.
Nancy attended the University of Florida and earned a bachelor's degree in leadership and community engagement from the University of Indianapolis in Indiana.
Since her return to Jacksonville full-time in July 2022, Nancy has dedicated her time to volunteer efforts with 904WARD and Riverside Presbyterian Church. Nancy is committed to community engagement and actively seeks opportunities to contribute to the betterment of society.
To get in touch with Nancy, please email Nancy@groundworkjacksonville.org
Gloria McNair
Manager, Community Engagement & Equity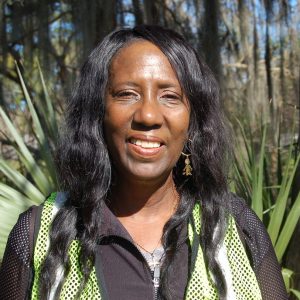 Gloria McNair joined GWJax in 2018, responsible for engaging citizens — especially residents from historically underserved urban neighborhoods — in visioning and advocating for their community. Gloria also helps to ensure community input shapes GWJax projects including McCoys Creek, Hogans Creek and the Emerald Trail.
One of Gloria's major areas of focus is the development and implementation of an Equitable Development Plan to help long-time residents stay in their homes and benefit from the prosperity the Emerald Trail will create.
Gloria's professional career has been diverse, yet at the core of her work has been a dedication to service.  She joined the U.S. Navy and served 22 years of active service, first as a Hospital Corpsman and then as an Environmental Health Officer. After retiring in Jacksonville, she used her skills as an educator and preventive health advocate with the Florida Department of Health in Duval to support initiatives such as the Green Team's community garden.
Gloria has a MA in Human Resource Development from Webster University, a Bachelor of Science degree in Psychology from Excelsior and an Associates of Science degree in Environmental Health from Merritt College. Originally from South Carolina, Gloria now proudly claims Jacksonville as home for her and her husband and two daughters.
To get in touch with Gloria please email gloria@groundworkjacksonville.org
Monty Selim
Emerald Trail Project Manager
Montasser (Monty) Selim serves as the Groundwork's Emerald Trail project manager, responsible for the technical coordination of project teams, directing and coordinating projects through all phases, from scope and fee negotiations to allocating resources and ensuring technical quality, budgets and schedule compliance.
Monty holds a BS in Civil Engineering and has more than 35 years of experience in multimodal transportation planning and program management of Transportation/Public Infrastructure projects.  His experience includes the development of multimodal transportation alternatives analysis, and preliminary design projects.  Monty served as Urban Planner for Jacksonville's Downtown Design Review Board for six years and is currently serving on the Context Sensitives Streets Standards Committee for the last four years.
To get in touch with Monty, please email Monty@groundworkjacksonville.org
Dylan Ford
Landscape Architect/Project Manager
Dylan Ford is Groundwork Jacksonville's Landscape Architect and Project Manager, responsible for designing native landscapes for the Emerald Trail, as well as managing watershed and restoration projects for McCoys Creek and Hogans Creek. Dylan is committed to improving the quality of life in Jacksonville through green infrastructure design.
Born in California, Dylan spent most of his life in Indiana. He earned a master's in landscape architecture from Ball State University and a Bachelor of Science degree in Physics with a minor in Mathematics from Manchester University in Indiana.
Wanting to be close to family and the beach, Dylan and his wife Holly moved to Jacksonville in 2018. Prior to joining Groundwork, Dylan worked for the State of Florida as Engineering Specialist II for the Army National Guard in Saint Augustine, Fla.
Currently, Dylan is pursuing his Landscape Architect license in Florida, as well as the Certified Associate in Project Management (CAPM) designation. He is a member of the American Society of Landscape Architects (ASLA).
To get in touch with Dylan, please email dylan@groundworkjacksonville.org
Joni Turner
Community Engagement Coordinator
Joni Turner is Groundwork Jacksonville's Community Engagement Coordinator responsible for establishing and maintaining positive relationships with stakeholders of Jacksonville's urban core neighborhoods. As part of Groundwork's community engagement team, Joni works to ensure residents and business owners stay informed about —and have a voice in—Groundwork initiatives including the Emerald Trail and creek restoration projects.
Joni brings a strong background in relationship-building through her experience in operations and account management in the financial services sector.
Most recently, as Chief of Staff at The Freedom Church Jacksonville Inc., Joni successfully managed myriad responsibilities and complex challenges, further strengthening her excellent management, communications and collaboration skills.
Joni holds a Bachelor of Arts degree in Psychology from the University of North Florida. She volunteers as the secretary of the Robinson's Addition Neighborhood Association, one of the communities along the planned Emerald Trail. In her spare time, she enjoys traveling and cooking and considers herself to be a bit of a "foodie."
To get in touch with Joni, please email Joni@groundworkjacksonville.org
Julia Ramer
Development & Communications Coordinator
Julia Ramer is the Development & Communications Coordinator at Groundwork Jacksonville. With more than five years of experience in Jacksonville's nonprofit sector, she brings a wealth of knowledge and expertise to her role. Originally from Miami, Fla., Julia made the move to Jacksonville in 2017 to pursue a Bachelor of Arts degree in communications with a focus on public relations at the University of North Florida.
Driven by her passion for social justice and equity, Julia is committed to making a positive impact in the community. In her role as at GWJax, Julia leverages her exceptional communication skills and strategic mindset to cultivate relationships with donors, create compelling campaigns, and amplify the organization's mission.
Outside of her professional pursuits, Julia finds joy in playing board games, reading novels, and spending time with her seven-year-old Bedlington Terrier.
To get in touch with Julia, please email Julia@groundworkjacksonville.org