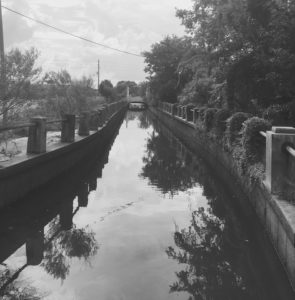 Groundwork Jacksonville is the city's nonprofit partner specifically created to clean and redevelop Hogans and McCoys creeks and convert contaminated land into parks, playgrounds, trails, and other public spaces.  Groundwork intends to build the "emerald necklace" of trails, parks, creeks and greenspace encircling the urban core that was envisioned by famed architect Henry Klutho in the early 20th Century. Groundwork Jacksonville is one of 22 such trusts across the country, the only Groundwork trust in Florida and the first in the Southeastern United States.
How Groundwork Jacksonville Began 
A  Steering Committee, comprised of local city, non-profit, community and business representatives, was formed primarily to respond to the vast need for environmental and community revitalization in the Historic Springfield and Eastside neighborhoods bordering downtown Jacksonville. Their application to establish a Groundwork Trust in Jacksonville was approved in October 2013, and work on the feasibility study began in earnest in January 2014. The extensive feasibility study process was undertaken in partnership with Groundwork USA, and with guidance from the National Park Service's Rivers, Trails and Conservation Assistance Program and the U.S. Environmental Protection Agency. This process was designed to identify on-the-ground project and program needs in the community, assess existing assets and resources, and outline a structured plan for establishing Groundwork Jacksonville that would address these needs and make its community-driven vision of restoration and renewal a reality.
On June 30, 2014, the Groundwork Jacksonville Steering Committee unanimously voted to approve its Feasibility Study and submit it to the Groundwork USA board, which then reviewed and approved it. On September 16, 2014, the completed and approved Launch Strategy was submitted to the Groundwork USA board, which commended both the Feasibility Study and the Launch Strategy and offered an enthusiastic go-ahead for the launch of Groundwork Jacksonville!
There were a number of previous studies conducted by other organizations and resource documents that informed the work of the Groundwork Jacksonville Steering Committee. Those documents may be viewed here.