On March 23, Groundwork Jacksonville, in collaboration with Kate and Kenny Rouh of RouxArt dedicated the Sugar Hill Mosaic—the largest mosaic art installation in Jacksonville. The five-foot high, 96-foot long mosaic honors the past, present and future of Sugar Hill, once the center of African-American prosperity in Northeast Florida. An estimated 41,000 individual tile pieces were used to create the public art mosaic. More than 150 guests turned out on a beautiful spring day to celebrate.
According to Kate Rouh, designer and co-creator, the mosaic represents more than 1,000 man hours contributed by RouxArt and hundreds of volunteers from all areas of the community. "This began in 2017 when Alyssa Bourgoyne from Groundwork came to us with an idea for public art on the S-Line. We laid the first tile in January 2018. We are so proud to present this labor of love to Jacksonville not only to honor the legacy of Sugar Hill, but also to inspire the community through the beauty of mosaic art," she said.
Groundwork's Green Team Youth Corps hosted an event along the S-Line in 2017 where they asked Sugar Hill residents what they'd like to see depicted in the mosaic. Those ideas inspired RouxArt's design which features six themed panels:
History of Sugar Hill – Honors the grand homes, buildings and prominent residents of Sugar Hill
Peace – Features colorful peace signs
Neighborhood Fun – Inspired by children playing and everyday neighborhood activiti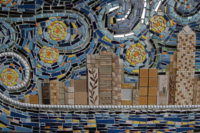 es
Green Team Youth Corps – Recognizes Green Team's extensive work along the S-Line
Love Graffiti – Memorializes a graffiti image that once appeared where the mosaic hangs today
Jax Starry Night – Jacksonville Skyline image inspired by the famous painting by Vincent van Gogh
Sugar Hill—bordered by Brentwood to the North, Durkeeville to the west, Springfield to the east and LaVilla to the south—was home to many of Jacksonville's most prominent African-American families from the late 1800s to the early 1960s. Unfortunately, like so many of Jacksonville's historic neighborhoods, Sugar Hill fell victim to development when Interstate 95 bisected the neighborhood. Most of the stately homes along 8th street were demolished, the quaint tree-canopied streets became high-speed thoroughfares and the once treasured neighborhood fell into obscurity.
"Central to our mission is to build and activate an urban trail—complete with recreation and public art—that links and celebrates our historic neighborhoods. We are honored to dedicate the Sugar Hill mosaic as the first of many Emerald Necklace projects over the next decade that will encourage our citizens to re-connect with our city and with each other," said Kay Ehas, CEO of Groundwork Jacksonville.
The mosaic cost $25,000 to design and construct and was underwritten by a number of donors including Bill and Julie Sorenson; Late Bloomers Garden Club; North Florida Land Trust; UF College of Medicine – Jacksonville; UF Health Jacksonville and United Way of Northeast Florida. Haskell provided engineering and installation expertise as an in-kind donation.
Additionally, Groundwork received support from several public and private agencies including City Councilman Reginald Gaffney, District 7, who sponsored the project bill, FDOT who granted permission to affix the mosaic to the I-95 retaining wall, Cultural Council of Greater Jacksonville – Art in Public Places who provided a letter of support and helped Groundwork navigate the City approval process, and COJ Parks, Recreation and Community Services which provided equipment and assistance at the various on-trail workshops.
"The Sugar Hill Mosaic is an important reminder of the contributions to our city by the African-American residents who once called it home," said Council Reginald Gaffney. "But just as important, it celebrates our future as we work together to build the Emerald Necklace with its miles of trails, parks, public art, recreation and economic opportunity."